Aldridge's Always Christmas Store is located just outside of Detroit, Michigan. In the time of humans, the store was always filled with decorations, and other Christmas bric-a-brak.
2 days after people
The power goes out, the Christmas lights no longer sparkle, and the animatronic Santas no longer sing carols.
80 years after people
The store's roof has caved in, and the artificial snow mixes with the real stuff.
130 years after people
The fruitcake remaining on shelves is still edible.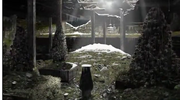 Ad blocker interference detected!
Wikia is a free-to-use site that makes money from advertising. We have a modified experience for viewers using ad blockers

Wikia is not accessible if you've made further modifications. Remove the custom ad blocker rule(s) and the page will load as expected.