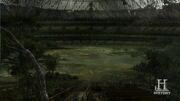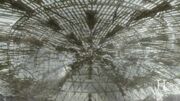 The Astrodome is the world's first domed sports stadium located in Houston, Texas, USA. The stadium is part of the Reliant park complex. It opened in 1965 as
Harris County Domed Stadium
and was nicknamed the Eighth Wonder of the World.
20 Years after People: After just 20 years in Houston's sub-tropical climate, bats and birds have colonized the interior. The bats drop guano which attracts insects. The plants and fungi growing there provides food for any herbivorous animals that come who will attract carnivorous ones and the carrion eaters. All of Houston's sport stadiums were kept at a steady 42 degrees farenheit, they now swelter to twice that much.
100 Years after People: Due to the dome atop the stadium being made of steel and lucite, a century of neglect causes the 180,000 lb dome comes raining down. The bats and birds that lived in the dome fly to safety. It is outlasted by the Reliant Stadium.
Ad blocker interference detected!
Wikia is a free-to-use site that makes money from advertising. We have a modified experience for viewers using ad blockers

Wikia is not accessible if you've made further modifications. Remove the custom ad blocker rule(s) and the page will load as expected.