The Blue and Green Diamond Towers are condominium towers and the tallest buildings in Miami. But how long will it last? 100 years after people: Once considered among the hottest beachfront property in Miami, the Blue and Green Diamond Towers are no longer located on the beach but  rather in the ocean itself. Saltwater has worn the buildings' foundations and they finally collapse into each other.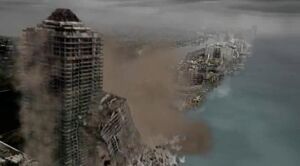 Ad blocker interference detected!
Wikia is a free-to-use site that makes money from advertising. We have a modified experience for viewers using ad blockers

Wikia is not accessible if you've made further modifications. Remove the custom ad blocker rule(s) and the page will load as expected.