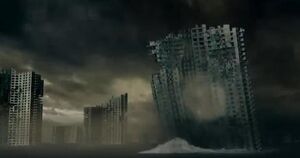 1 day after people: The power fails in this area.
100 years after people: The Hutchinson River has reclaimed the former marshland that Co-Op City was built on the Bronx. The apartment buildings are degrading the fastest where waves hit them along their splashzone. Rainwater is leaking through the building's roofs and the apartment buildings of Co-Op City are assaulted by water from above and from below. Finally, wind in and the buildings of Co-Op City collapse into a watery grave.
Ad blocker interference detected!
Wikia is a free-to-use site that makes money from advertising. We have a modified experience for viewers using ad blockers

Wikia is not accessible if you've made further modifications. Remove the custom ad blocker rule(s) and the page will load as expected.