TCL Chinese Theatre, originally and still commonly referred to as Grauman's Chinese Theatre, is a cinema palace in Los Angeles, California, United States. The theatre is notable for its near 200 foot, handprints and autographs of famous celebrities, which attract millions. The theatre and the foot, handprints and autographs featured in the episode The Capital Threat.
Grauman's Chinese Theatre is made of wood, and is easily engulfed by a wildfire that occurs 10 years after people. The foot, handprints and autographs survive the inferno but are not mentioned for the remainder of the episode.
10 Years After People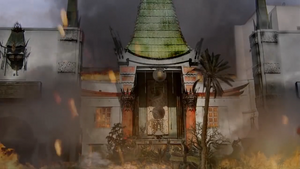 The wood of Grauman's Chinese Theatre has been rotting for a decade. A wildfire starts and engulfs the theatre in seconds. The foot, handprints and autographs, which are formed in cement, easily survive the inferno however.
Ad blocker interference detected!
Wikia is a free-to-use site that makes money from advertising. We have a modified experience for viewers using ad blockers

Wikia is not accessible if you've made further modifications. Remove the custom ad blocker rule(s) and the page will load as expected.