1 week after people: In London, time is running out for Big Ben. In the time of humans, the clock had to be wound 3 times a week, a task that took 2 royal clock mechanics several hours to complete with the aid of an electric motor. Now, without humans around, the clock stops working and the chimes stop chiming. The clock stops, but the tower remains. At least for now; due to a construction quirk it has always leaned 8.6 inches to the Northwest, a lean that will become worse over time.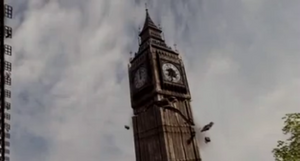 100 years after people: For Big Ben,time has run out. The clock finally collapses. Sections of the Westminster Bridge, including some of the legs that hold it up,have fallen into the water. The rest remains.
125 years after people: The land around it floods and reverts to swamp.
350 years after people: The Houses of Parliament finally collapses, leaving the skyline unrecognizable.
Ad blocker interference detected!
Wikia is a free-to-use site that makes money from advertising. We have a modified experience for viewers using ad blockers

Wikia is not accessible if you've made further modifications. Remove the custom ad blocker rule(s) and the page will load as expected.