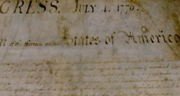 The Declaration of Independence remains housed in the West Wing of this famous icon, of the 200 copies printed, only 25 survive. The document is encased in a climate controlled case. However after 1 day, with no power the linen-rag paper will slowly begin to decay, as humidity and moisture creep into the case. After 10 years broken windows in the west wing will allow sunlight to beam into the buidling, the ultra-violet light will cause the document to fade over time. After 200 years Independence Hall in Philly collapses.
After 300 years the Declaration's case's seals have failed, and the first blast of wind will cause the document to disintegrate. the now empty case will be soon buried in the rubble that was the West Wing.
Ad blocker interference detected!
Wikia is a free-to-use site that makes money from advertising. We have a modified experience for viewers using ad blockers

Wikia is not accessible if you've made further modifications. Remove the custom ad blocker rule(s) and the page will load as expected.