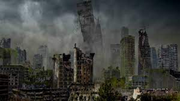 The JPMorgan Chase Tower, located in Houston, is the tallest building in Texas.
20 years after people;The JPMorgan Chase Tower looms over a Houston that is reverting back to a swamp.
200 years after people;After hurricanes and Houston's subtropical climate have reduced the building to a metallic skeleton for decades, Houston's JPMorgan Chase Tower finally succumbs to corrosion and collapses.
Ad blocker interference detected!
Wikia is a free-to-use site that makes money from advertising. We have a modified experience for viewers using ad blockers

Wikia is not accessible if you've made further modifications. Remove the custom ad blocker rule(s) and the page will load as expected.