The KVLY-TV mast is a television-transmitting mast outside of Blanchard, North Dakota, At 2,063 feet tall, it is the tallest structure in North America.
50 years after people:A large ice storm strikes North Dakota. Freezing rain falls from the sky and the ice accumulates on the KVLY-TV mast. The weight of the ice eventually causes the KVLY-TV mast to break and collapse.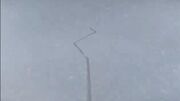 Ad blocker interference detected!
Wikia is a free-to-use site that makes money from advertising. We have a modified experience for viewers using ad blockers

Wikia is not accessible if you've made further modifications. Remove the custom ad blocker rule(s) and the page will load as expected.