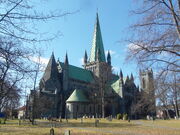 The Nidaros Cathedral is a famous cathedral located in Trondheim, Norway. The building was built between 1070 and 1300 and was an important pilgrim destination in the Middle Ages. When Protestantism exchanged Catolism in Norway, the cathedral was used by important bishops. Today it's a famous tourist attraction, but is also the place where Norwegian Kings are consecrated. However, the building has been regulary struck by fires and lightning since the Middle Ages, and were enduring heavy maintance when mankind dissapeared.
25 Years after People: The wooden chairs of the curch has rotten, so has the Baroque organ located in the gallery. The beautyful glass art of the west front has shattered on the street below.
50 Years after People: A fire strikes the building as many generation before have witnessed. This time, there is no man to witness it, or stop it. The roof burns down, but the stone still remains.
1500 Years after People: The Romanesque and Gothic style used to build the cathedral, like the Cathedral of Notre Dame saves the building from early collapse. The harsh norwegian weather hovewer, is attacking the building. 1500 years after people, lightning strikes the cathedral, and combined with fire, rain, wind and snow, ensures the collapse of the tower, who again collapses the famous west front. Only the back of the altar is left of Norways greatest church, overgrown by wildlife.
Ad blocker interference detected!
Wikia is a free-to-use site that makes money from advertising. We have a modified experience for viewers using ad blockers

Wikia is not accessible if you've made further modifications. Remove the custom ad blocker rule(s) and the page will load as expected.