300 years after people; The tallest building in New Orleans, One Shell Square, remains.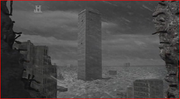 The building owes its longevity to having its foundational pilings incased in concrete. But saltwater corrosion has degraded the pilings and weakened the building's foundation. A category 4 hurricane finally brings One Shell Square down into the waters below.
Ad blocker interference detected!
Wikia is a free-to-use site that makes money from advertising. We have a modified experience for viewers using ad blockers

Wikia is not accessible if you've made further modifications. Remove the custom ad blocker rule(s) and the page will load as expected.