The Renaissance Center along the International Riverwalk in Detroit, is a group of 5 inter-connected skyscrapers. The Center tower houses the Detroit Mariott and has been the tallest structure in Michigan since 1977. The 73-story Center tower is surrounded by 4 39-story offices. Originally constucted by Ford, G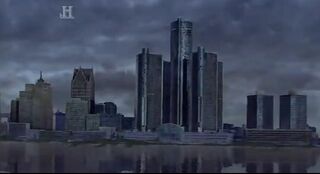 eneral Motors currently owns the building, but in Life After People there is nobody around to maintain it.
After 25 Years, Detroit's climate has taken it's toll on the city's downtown skyscrapers. The atrium in the center tower has accumulated dirt, and has attracted animals. The non-native palm trees quickly died and were replaced by native trees.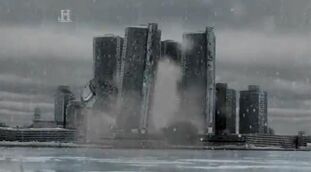 After 150 years, the harsh Detroit climate: Wind, Snow and ice, hot summers, finally bring the steel and glass of the tallest building in Michigan and the headquarters of General Motors to the ground
After 200 years, the rest of the buildings have collapsed leaving the heart of the motor city no more.
.
Ad blocker interference detected!
Wikia is a free-to-use site that makes money from advertising. We have a modified experience for viewers using ad blockers

Wikia is not accessible if you've made further modifications. Remove the custom ad blocker rule(s) and the page will load as expected.