Silver Bullet
is a
Bolliger & Mabillard
inverted roller coaster at
Knott's Berry Farm
in
Buena Park, California
. 100 years after people; In order to reduce the Silver Bullet Roller Coaster's noise the inside of the structure was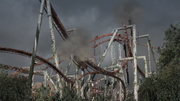 filled with sand. Now that sand is what will lead to the roller coaster's downfall. The sand collects moisture inside it and corrodes the Silver Bullet Roller Coaster from within and causing it to collapse.
Ad blocker interference detected!
Wikia is a free-to-use site that makes money from advertising. We have a modified experience for viewers using ad blockers

Wikia is not accessible if you've made further modifications. Remove the custom ad blocker rule(s) and the page will load as expected.