The Space Needle is a famous observation tower in Seattle, Washington. It was built in 1961 and was opened the following year for the 1962 World's Fair. It soon became one the most iconic towers in the city of Seattle. However, how long will it last without people in the rainy city?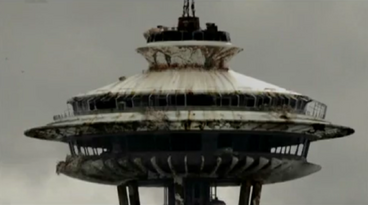 50 Years after People:
 After five decades, the Seattle Space Needle has corroded inside and out, as all of it's windows have shattered. Its base is being corroded by wet leaves. Peregrine falcons now nest in the Space Needle's restaurant.
200 Years after People:
After two centuries without people, the top of the Space Needle collapses and falls to the streets below. This iconic structure is now a tower of rust and bent metal.
Ad blocker interference detected!
Wikia is a free-to-use site that makes money from advertising. We have a modified experience for viewers using ad blockers

Wikia is not accessible if you've made further modifications. Remove the custom ad blocker rule(s) and the page will load as expected.