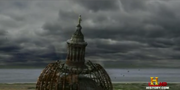 The Statue of Freedom is a statue atop the
United States Capitol Building
in Washington D.C.  How long will it continue to gaze out over the ruins of the former American capitol?
250 years after people.The weight of the Statue of Freedom finally proves to much for the United States Capitol Building's dome,and it caves in.The statue is destroyed in the process.
Ad blocker interference detected!
Wikia is a free-to-use site that makes money from advertising. We have a modified experience for viewers using ad blockers

Wikia is not accessible if you've made further modifications. Remove the custom ad blocker rule(s) and the page will load as expected.