The Statue of Liberty is a national monument located on Liberty Island in New York
Harbour. Built in 1886, The Statue was given as a gift from France to the United States. The Statue is constructed of copper plates attached to an iron skeleton.
Timeline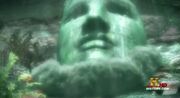 300 Years after People: After 300 years, The Statue of Liberty falls in pieces to the bottom of New York Harbour (which has now flooded parts of Liberty Island). First will come the heaviest part, the torch-bearing right arm. Then the head, and the rest. It is possible that the imprint of the statue arm and face on the ocean floor might become fossilized.
1000 Years after People: Only the pedestal of the Statue of Liberty remains mostly intact. Scientists think that it may survive for thousands of years.
Ad blocker interference detected!
Wikia is a free-to-use site that makes money from advertising. We have a modified experience for viewers using ad blockers

Wikia is not accessible if you've made further modifications. Remove the custom ad blocker rule(s) and the page will load as expected.