4 years after people: The Sydney Harbour Bridge nicknamed the "Coat Hanger" by locals is one of tallest steel arch bridges in the world. It was constructed with a special ability to expand and contract. Towering 430 feet above the harbor water. After 4 years the expansion joints that allow the bridge to expand a foot during the day and shrink back to size at night are beginning to lock up in the humid salty air of Sydney Harbour.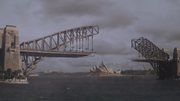 100 years after people: The Sydney Harbour Bridge is nearing its own end, the aging steel is under tremendous stress. The hinges at each end of the bridge once allowed expansion and contraction, but they locked up a long time ago. The pressure and aging steel cause the bridge to collapse into the harbour
Ad blocker interference detected!
Wikia is a free-to-use site that makes money from advertising. We have a modified experience for viewers using ad blockers

Wikia is not accessible if you've made further modifications. Remove the custom ad blocker rule(s) and the page will load as expected.