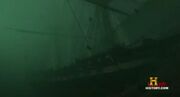 The U.S.S. Constitution is an American warship and the oldest commisioned warship still afloat. It gained the nickname Old Ironsides after cannonballs were seen to bounce off its wooden hull in the War of 1812.
In a life after people the ship's bilge pumps stop working shortly after people disappear. This makes the ship unable to withstand the Boston winter and lets the ship slowly fill with water, causing it to sink 9 months after humanity's disapperance.
Ad blocker interference detected!
Wikia is a free-to-use site that makes money from advertising. We have a modified experience for viewers using ad blockers

Wikia is not accessible if you've made further modifications. Remove the custom ad blocker rule(s) and the page will load as expected.