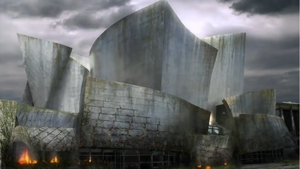 Named after the person who created Mickey Mouse in 1928, the Walt Disney Concert Hall is an odd-shaped structure, located in Los Angeles, designed by Frank Ghery. The structure is stainless steel, so after 15 years, when a fire burns into Hollywood, the structure easily survives, but the fire consumes the plant life growing between the stainless steel panels. After 100 years the stainless steel alloy has broken down, and the structure is now the color of dry blood. After 1000 years,an earthquake hits the area. Among the buildings left are the
Hollywood Walk of Fame
,the
Theme Building
,and the Walt Disney Concert Hall. But all of that is about to change. The observation deck and restaurant in the center of the Theme Building falls,and the legs follow. The Walk of Fame cracks,then caves in, forming a fissure. One shell of the concert hall collapses,destroying the interior. Then, the whole structure falls apart.
Ad blocker interference detected!
Wikia is a free-to-use site that makes money from advertising. We have a modified experience for viewers using ad blockers

Wikia is not accessible if you've made further modifications. Remove the custom ad blocker rule(s) and the page will load as expected.